Rod and Ricki Kramer 9/10/2015
I have owned many vehicles in my lifetime and the most recent were purchased at Cars For Les in Madison, SD. The owners Eric and Stace have assisted me with my last 9 vehicles Purchased. The opportunity to work with them has been by far the most pleasant buying experience I have ever had, not only are the pleasant but are very professional, knowledgeable and fair. Cars For Les has a great selection of late model used vehicles and their inventory has been inspected by an independent shop and come with a Lifetime Engine Warranty and a Carfax. My buying experience at Cars For Les has been worry free and I have complete trust in Eric and Stace and will keep purchasing my vehicles Cars For Les.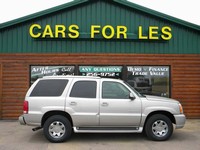 Kyle Kinner 8/9/2015
I have had many car buy experiences from dealers, and here is the ticket. Cars for Les are going to be my first stop from now on. I live about an hour and a half from Madison and Jason Menholt was great to work with, we had all the negotiating done over the internet so there were no surprises. He was very honest with everything about my new SUV prior to coming down to purchase it. He did not sugar coat anything and made things very clear so we did not waste our time coming to check it out. Long story short they are not the typical car sales men. Even better yet, service after the sale, Contacted Jason the following Monday after my purchase. He responded to me right away and assured me that he will be doing everything he can to answer my question. I HIGHLY recommend Cars for Les to anyone! Thanks for the great experience guys!

Gerald and Nelline Strange 1/20/2015
TO WHOM IT MAY CONCERN: This is a "Letter of Recommendation" being sent on behalf of Cars for Les. In our experience in dealing or trading in cars over the Internet, we, Gerald and Nelline Strange from Trinity, TX, have had an exciting opportunity to purchase a vehicle from Cars for Les located in Madison SD. We responded to an ad on Autotrader via the Internet. In our research, Cars for Les seemed to have just the right vehicle with just the right features/accessories and most of all...just the right price...that we were looking for. The people at Cars for Les, were very pleasent and patient to deal with and did everything humanly possiable to help satisfy our trust in his opinion and judgment about the condition of the 1997 Suzuki that we were inquiring about. They went so far as to take it to an authorized auto inspector and have him call us regarding the report. There was no "high pressure" sales pitch purchasing the vehicle. The trip from Texas to South Dakota was over 2000 miles, but it was well worth the trip. We are totally satisfied with the Suzuki and Cars for Les. We highly recommend Cars for Les for their business tactics. We not only gained a new vehicle, we gained new friends at CARS FOR LES. Sincerely, Gerald and Nelline Strange Trinity, TX

Sherri Black 3/23/2011
I know buying a car can be a difficult decision but the guys at Cars For Les made it a no brainer. As a single mom I was really afraid of being taken advantage of AGAIN. The guys at Cars For Les were helpful, enthusiastic and Fun to buy from. There were a lot of choices out there but I went with a small town dealership that had all the choices a big dealer would have. I did research on the vehicle I wanted thru autotrader and found that they were the least expensive. A quick 45min drive from Sioux Falls and I found the vehicle I was looking for. So again I want to say thanks to CrazyRay for his patients and helpfulness. Thanks Ray I will be BACK! Sherri Black Sioux Falls, SD

Garrett T. 3/23/2011
Thanks You Guys Rock!! Thank you so much!!!!